Serene Dominic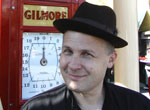 Born Dominic Salvatore Salerno, he changed his name to Serene Dominic in 1990 in a misguided attempt to blend in with the jamband rock that was popular in the New York live scene at the time. Instead he became something of an irritant, always performing with a Fedora and an overcoat like a guest who was expected to leave at any moment. That urgency was captured in his music as well, which he himself contnued to repackage in boxed sets and sell at shows. A native New Yorker, he moved to Phoenix in 1993 and between 1994 and 1996, he maintained his New York aggregation Serene Dominic & the Semi Finalists, and a Phoenix group Serene Dominic and the Semi-Detached, eventually released three singles and an album, Heathens of Vaudeville, on the Atlanta based indie label Worrybird. Magnet Magazine called Serene "an avatar of pure, pristine pop" while New York Press dubbed him "the Pitbull of Pop" and "Love's Ultimate Schlub." Simultaneously, he began a career as a rock journalist, mainly for Phoenix New Times and Detroit Metro Times where he continues to this day and in 2003 he published his first book, Burt Bacharach Song By Song, generally regarded as the definitive book on the composer, even by the man himself.
The followup to Heathens, Adult Contemptuous, was recorded in 1997-1998 but sadly fell through the cracks when Worrybird began having financial woes and Serene went through some personal upheavals, all of which seem predicted by the songs he was sitting on. In keeping with the rest of Phoenix's transient population, the members of the Semi-Detached scattered across the United States. Says Serene, "I was struggling with being an adult and letting go of the childish behavior that goes hand in hand with rock and roll and this record sort of captures that. They have a classic rock leanings but they're being delivered by a deviant heart that doesn't want to hear classic rock anymore". Serene began performing one-man shows as Vic Masters as well as performing lounge music as The Human Torch. Later he formed the groups Vic Masters & the Torchbearers and Maricopa Beat Ensemble. All the while he performed these songs and sold them on CDs exclusively at shows.
Now, through the kind patronage of Bendi Records, Adult Contemptuous is finally being made available in its original format and sequence and original artwork. Enjoy this tour de force and remember, Serene is still out there risking bodily harm and personal shame for your listening pleasure!

Serene Dominic discography on Bendi: